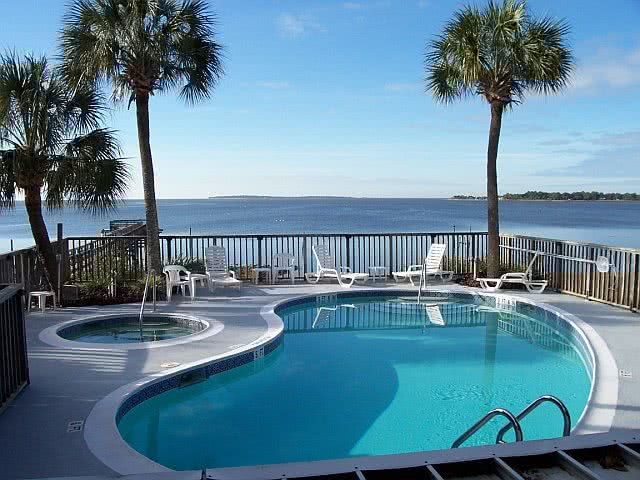 Welcome to the Relaxing Island of Cedar Key
Condo rental in a place where time stands still and allows you to immerse yourself in the amazing qualities of our beautiful coastal community.
Historic Cedar Key sits 3 miles out into the Gulf of Mexico, crossing the salt marshes and channels on 4 low and small bridges.
Located only 50 miles SW of Gainesville, FL and 70 miles due west of Ocala.  Tampa/St. Petersburg is only a 2 hour drive.
Cedar Key is a haven for artists, writers and "adventure" tourists, who find the unspoiled environment inspirational.
Seahorse Landing #503 Condo Rental
Easy to Book on the Following Sites
The best condo rental in Cedar Key – at Seahorse Landing #503 you can expect breathtaking views of the Gulf of Mexico from our luxury two bedroom condominium in Cedar Key.
Spectacular sunsets are common place from your vacation condo balcony. Beautifully furnished unit that has a large private balcony, a fully equipped kitchen, 2 baths, washer/dryer and free WiFi. Seahorse landing condos don't get any better than this! All you need to bring is your suitcase, groceries and an island state of mind. Love boating and fishing? Seahorse Landing's boat dock and pier are exclusively for the use of our guests. If birding is your passion, guests have reported over 60 species of birds observed from their condos.
There are a few Seahorse Landing rentals in Cedar Key, but this 3rd floor gulf front condominium offers amazing views of the water. Cedar Key is one of Florida's best kept treasures, located in Florida's longest undeveloped stretch of coastline, often called the Hidden Coast. When you cross the bridges leading into the Cedar Keys you will be instantly transported into a state of utter tranquility.
Seahorse Landing #503 is a top floor end unit. As an end unit, it will have the most privacy and also an extra large wrap-around balcony. Our condo in Cedar Key comfortably sleeps six and it has two full bathrooms. There is a queen bed in the master room and a queen bed in the 2nd room. In the living room, there is a very comfortable sleeper sofa. Why rent in one of the Cedar Key hotels when you can have your own private vacation rental with us!  Contact us today
The views from this third floor condo were outstanding. Cedar Key is a small town so we rented a golf cart to runaround with. We did two nights, but would have been very comfortable with a longer stay!
Big breezy porch. Beautiful sunsets. Relaxing hot tub and refreshing pool. Close enough to restaurants and shops but far enough for peace and quiet.
I liked the balcony we got to see dolphins twice right off our own balcony. We had enough space that we could move around. The view was amazing and the furniture was comfortable.